A Dutch silver Monteith bowl
The body of circular section and chased with fluted pattern, rising to protruding reeded rim, the smooth upperpart chased with six lobes with gadrooned border, the slightly domed foot with swirling gadrooned base and rising to short waisted neck, each side issuing a shaped and hinged dropped handle, centred by a male's mask, probably of a bearded Roman warrior, wearing a large moustache and a laurel wreath on his head.
This hitherto unknown Monteith was probably made in Delft by Cornelis Van Dijck (active in Delft 1692-1735); old marks seem to have been scratched off and the vessel is re-struck at the base with the town mark of Utrecht and date letter Z for 1712.
A Monteith bowl is a form of a vessel or basin that was originally introduced in the 17th century in order to cool glasses in a Verrière fashion. A Monteith bowl would feature a band of notches on the brim which allowed for the base of a wine glass to be 'hooked' onto it and the body to rest in the bowl containing ice water. Such vessels were also manufactured in Chinese porcelain, Delft earthenware as well as in tôle peinte.
The name Monteith was derived from a Scottish gentleman named Monsieur Monteigh who, at the time, wore a cloak which had a 'u u u u'-shaped design at the bottom. As such, the bowl featuring a similar notched 'u' shaped brim was referred to as a Monteith from then on and had many variations to the spellings/pronounciations, such as a Monteth, Menteth,  Mounteth and even as far as a Moonteeth.
Before such innovations to these bowls were made, there are a few recorded cases in which a bowl without the monteith notch was used to cool glasses. The rising popularity of such bowls to be used as glass coolers during the 18th century were due to the fact that heavily spiced food was consumed in England at the time. As such, a cooling drink was necessary to combat the spicyness of such meals and the drinks included wine or at the time, a new trendy 'punch' which would require a cooled glass to be prepared for maximum effect and experience.
Later on, Monteiths would also feature a detachable rim/bezel in order to remove the notched shape. This was supposedly done in order to provide a more versatile bowl which allowed for punch itself to be held within the vessel as a punch bowl or alternatively for other purposes such as for fruits.
There seems to be a striking resemblance between the applied heads, to the handles, between the monteith in  the collection of Museum Boijmans, and our piece. Both have a mask of a bearded man with a moustache, wearing a laurel wreath on his head.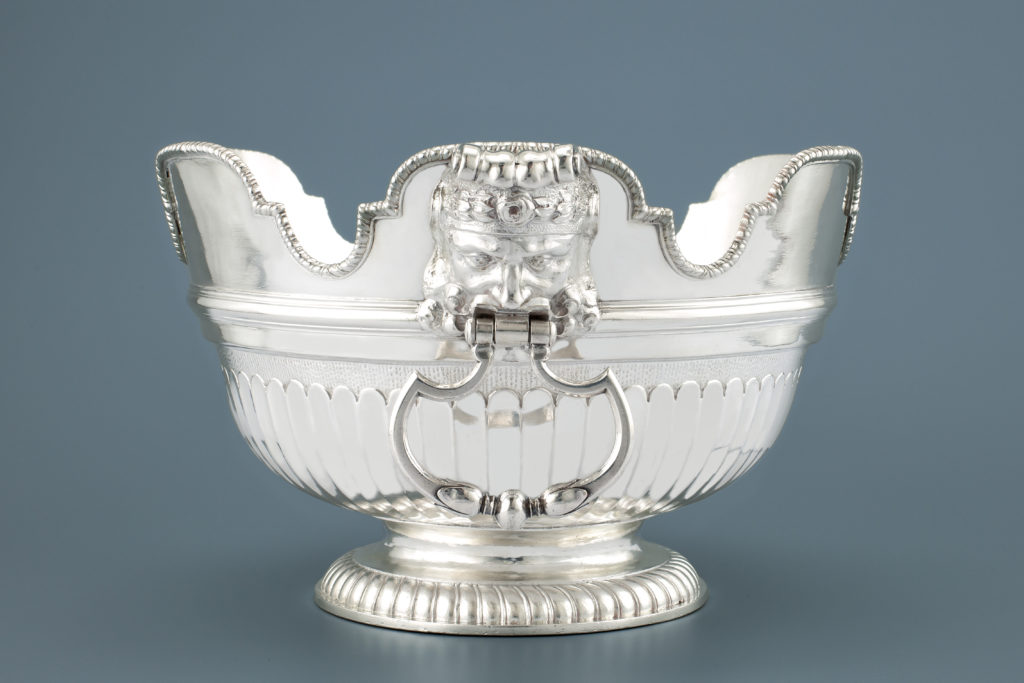 A comparable round monteith by the Amsterdam maker Anthony Donker (active 1697-1731) is in the collection of Museum Boijmans van Beuningen, Rotterdam,inv. n° MBZ 216; another by the Hague maker Abraham van Wingaerden, dated 1715, is in the collection of Stedelijk Museum De Lakenhal, Leiden, inv. n° 161; and another, in a private collection, is made by Cornelis van Dijck in Delft, and dated 1714. Another circular monteith, also by Cornelis van Dijck, dated 1709, was sold, 13-14/12/2001, Zeeuws Veilinghuis, Middelburg, lot 2025 for €145,000 (hammer).
Provenance
Godard Adriaan Jacob baron van Randwijck 1805-1870;
Frans Willem baron van Randwijck 1854-1930;
Hillegonda van Randwijck 1888-1970;
Thence by descent to the previous owners

Associated Literature
Dr Pieter Biesboer, Delfts Zilver, Delftse Goud- en Zilversmeden en hun merken, 1537-1807, n° 82, p. 267 and ill., a monteith by Cornelis van Dijck, dated 1714;
Dr C. Willemijn Fock, Catalogue Leids Zilver, n° 314, p. 152 and ill., a monteith by Abraham van Wingaerden, The Hague, 1715