Anna Maria Trip Dolls' house
In her extensive reference work Het Hollandse Pronkpoppenhuis, Interieur en Huishouden in de 17de
en 18de eeuw ('The Dutch Showpiece Dolls' House, Interior and Household in the 17th and 18th
century') from 2000, Dr. Jet Pijzel-Domisse mentions in appendix 1 Het Poppenhuis in de Fraeylemaborg,
ca. 1760. Bruikleen aan de Fraeylemaborg, Slochteren (The Doll's house in the Fraeylemaborg,
ca.1760. Loan to the Fraeylemaborg, Slochteren). After the loan to the Fraeylemaborg, this exceptional
piece of furniture with its equally exceptional contents was moved to the Amsterdam Museum where it
was on loan and displayed from 2006 until 2018.
Jet Pijzel describes the dolls' house as follows:
"The dolls' house in the Fraeylemaborg in Slochteren is a cabinet dolls' house in the true tradition of
the Dutch showpiece dolls' houses. It has four rectangular rooms- a Nursery, a Bedroom, a Salon and
a Kitchen- as well as a domed attic below the arched hood of the cabinet. The cabinet itself is made of
oak and walnut. (…..). The dolls' house is richly furnished with silver miniatures from the 18th century:
most of them are made by Arnoldus van Geffen and Jan Borduur. An extraordinary English portrait
miniature from the 16th century adorns the wall of the Salon….."
After thorough research the name of the first owner of the dolls' house was found: Anna Maria Trip.
She was an internationally orientated woman who would have known about the traditional pastime
of the wives of the wealthy gentlemen in 17th and 18th century Amsterdam: the decoration of dolls'
houses, often inspired by their own grand Amsterdam canal houses.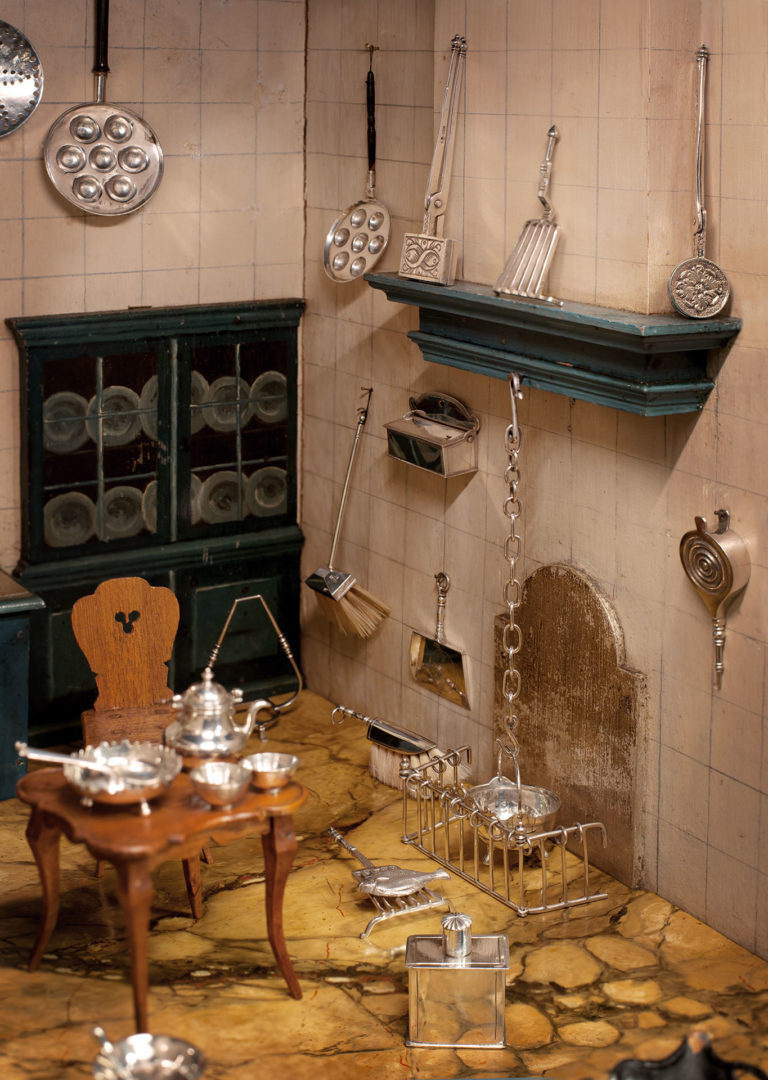 Based on family tales, old anecdotes, a photograph, old letters and sources from archives, the exact
provenance of this dolls' house is unraveled. Although it may not always be certain when the dolls'
house was handed down to the next generation, we have tried to uncover as much information as
possible. Most of the showpiece dolls' houses that are in the collections of Dutch museums were
handed down to the next generation through the female line, however, this was not the case with
Anna Maria Trip's dolls' house. For various reasons, the dolls' house was quite often passed on to a son.
The contents of the house are made from various materials such as marqueterie-de-paille, wood, bone,
chintz and of course an exstensive collection of miniature silver. Compared to the other dolls' houses
the enormous quantity of silver miniatures is striking. Based on the fact that none of the silver
miniatures have a 1807 control mark we can conclude that the all the objects were already part of the
dolls' house in the 18th century. Although the dolls' house was originally made as some sort of art
cabinet, it was also, very gently, played with. It's remarkable that the contents of the house are still,
after 250 years in such a good condition.
Provenance
Anna Maria Trip (1712-1778), Groningen; Wicher van Swinderen (1745-1821); Oncko van Swinderen (1775-1850);
Tjaard Anthony van Swinderen (1835-1847); Quirijn Pieter Anthoni de Marees van Swinderen (1854-1902); thence by inheritance to the present owners
On loan to: museum landgoed Fraeylemaborg, 1979-2006; Amsterdam Museum, 2006-2018
Literature
Paul Born en Maarten Lemberger, De Stavelij jaarboek, Een 18de- eeuws poppenhuis in het Amsterdams Historisch Museum, Amsterdam, 2007, pp. 53-62
Jet Pijzel-Domisse, Textiel in poppenhuizen, verslag van de textieldag van 22 november 1984 in de Vleeshal van het Frans Hals Museum, Amsterdam, 1985, pp. 81-82
Jet Pijzel-Dommisse, Het Hollandse pronkpoppenhuis: interieur en huishouden in de 17de en 18de eeuw, Zwolle, 2000, pp. 387 and 388
Samuel Muller Fz., Willem Vogelsang, Het Oud-Hollandsche huis, Utrecht, 1909, Epilogue
Exhibitions
Permanent on show:
museum landgoed Fraeylemaborg, 1979-2006
Amsterdam Museum, 2006-2018